We are pleased to announce that the highest-performance Hadoop distribution is now available on the Bigstep platform.
MapR on the Bigstep platform is one of the most extensive high-availability (HA) Hadoop distributions currently available. Its unique architecture makes it a reliable and fast solution for big data. Key features include record-breaking data processing power, an infinitely-scalable file system, high availability, disaster recovery setup and one-click setup in a high-performance bare metal environment.
In addition to that, it supports a wide selection of Hadoop applications, so no matter what your use case is or how many resources it needs, you can rely on a single, easy to use solution from beginning to end.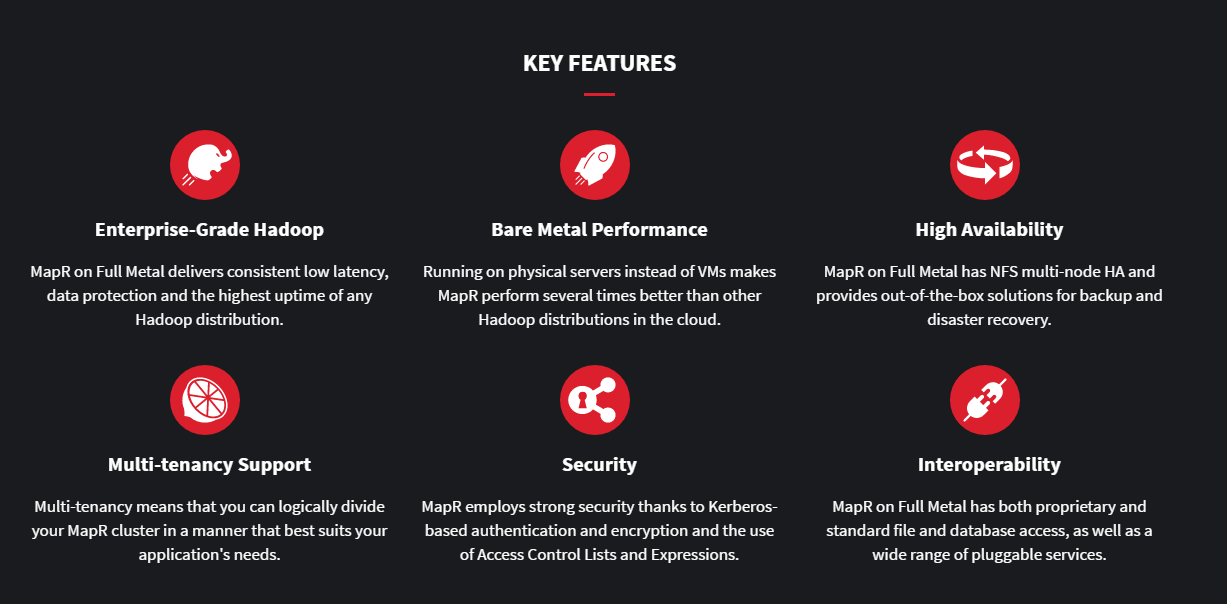 "We are pleased to now offer the MapR Converged Data Platform through Bigstep," said Xavier Guerin, vice president, EMEA Business Development, MapR Technologies. "We continue to expand our partnerships and provide the most cloud options on the market for organizations interested in deploying a powerful platform for handling a wide range of real-time global data applications. Our customers have realized tremendous business value from the unparalleled performance, reliability, data protection, disaster recovery and multi-tenancy features we bring to the cloud."
In addition, MapR on the Bigstep platform supports a wide selection of Hadoop applications so businesses with varying use cases and resources can rely on a single, easy to use solution from beginning to end.
Use cases include:
Real-Time Stream Processing: MapR provides a simplified, publish-subscribe model for real-time stream computation using Storm or Spark Streaming. Data feeds can be written directly to the MapR platform, which allows for less overhead and a shorter app chain.
Large-Scale Distributed Datasets: Low latency interactive query capability, hierarchical data structures and schema discovery make MapR on the Bigstep platform perfect for working with large-scale distributed datasets. It supports NoSQL, Hadoop and traditional RDBMS.
Predictive Analytics, Full Search & Discovery: Gather trend data, search Hadoop data directly or index standard files with no conversion or transformation needed. Content and results are highly available, automatically compressed, and can be protected using snapshots and mirroring.
Security & Risk Management: Analyze real-time data from network or other security devices, process application log data preemptively or use pattern and anomaly recognition capabilities to improve security and reduce unnecessary risk.
Up and running in 20 minutes 
MapR on Full Metal offers a complete high-availability Hadoop environment, without the usual trade-offs, and it does so full-throttle at standard compute pricing. If you're interested in setting up your MapR cluster in only 20 minutes, apply now for a free 14-day trial.