The rise of virtualization has been a boon for enterprises large and small, but that doesn't mean the transition from more predictable storage methods has been easy.
"Virtualization is changing the IT infrastructure landscape and creating huge problems for customers using traditional storage," says Doug Rich, EMEA Vice President of Tintri, a California-based IT company that's been at the forefront of the race to virtualization. "Organizations come to Tintri looking to tackle performance problems and dramatically reduce their storage management time."
Here, Doug discusses Tintri, the challenges facing IT, Big Data and the trends we should all be following. Read on:
Tell us about Tintri ...
Having spent seven years as Executive Vice President of R&D at VMware, Kieran Harty founded Tintri in 2008 with the intention of bringing the storage industry into the present.
While we do deliver a portfolio of storage products, we are by no means a traditional storage vendor. Virtualization has delivered unprecedented benefits, and we believe that the vast majority of enterprise applications should be virtualized. Our aim is to help enterprises to take virtualization to the next stage for their commercial applications.
What solutions do you offer them?
Tintri was the first company to build a specialized storage system for virtual machines (VMs), and that's what we describe as smart storage. Our flagship product, Tintri VMstore, uses virtual machine abstraction - VMs and virtual disks - in place of conventional storage abstractions such as volumes, LUNs. Our smart storage solutions operate directly at the virtual machine and disk level, making everything completely visible.
And what differentiates it from the other solutions available?
Because our VM-centric approach to storage is markedly different from traditional vendors, we are already ahead of the game. Tintri VMstore is architected specifically to meet the storage challenges posed by virtualization. As our CTO came from VMWare, he could design VMstore from the ground up, making it the perfect fit for virtual environments. Tintri's application-aware storage eliminates planning and complex troubleshooting by providing VM-level visibility, control, insight and agility that other vendors will struggle to match.
Why do you think management of storage infrastructure should be an obsolete duty of IT professionals?
With the right storage, management can be dramatically reduced, freeing up a Storage Admin's time. By simply adopting storage technologies like Tintri that can see and understand what's happening at VM-level, IT professionals have been able to reduce management time by 60 X.
What do you think IT pros should be focusing their time and energy on instead?
Saving time that would otherwise be spent keeping performance levels up means that IT professionals can spend more time on doing what's important to them - innovating, testing and developing.
From where you sit, what are the biggest challenges facing CIOs and their teams today?
The market has rushed to embrace virtualization, but when CIOs can't see what's happening at VM-level, they struggle to keep up the performance/IOPS levels required. Administrators generally end up adding more spinning disk to maintain IOPS in a virtual environment, resulting in 40 to 60 percent over provisioning. CIOs are struggling to balance performance levels against rising costs.
Why is Big Data so important to the growth and survival of businesses today?
Big Data is the term used to describe large volumes of unstructured information. This information can be analyzed in order to monitor changes in consumer habits, assess trends and inform business strategy. It has been shown that companies can make more informed decisions with more and more data. Big Data can help make the right decision with more being available. The ability to interpret Big Data quickly and efficiently can therefore help businesses get ahead of the competition.
This has to be better all round; there has been concerns around privacy and tracking our spending habits. Personally, I would rather be approached on products and services that will probably be of interest rather than a broad and uninteresting selection.
What can business owners do to better harness Big Data as it relates to their business?
This is very dependent on which sector the business is in. For example - a global bank can analyze the financial habits of its customers every hour of the day. This information can in turn inform marketing plans and help propel the business forward.
Powerful technology is required to store, manage and analyze Big Data, so investing in application-aware infrastructure that can adapt quickly is necessary. This is great for business, as you are only spending your budgets on projects that have a higher level of success to a focused audience.
What are the most interesting IT innovations or developments today? Why is it exciting to work in the IT industry today?
IT is the most fascinating industry to me. It's growing so quickly, and it's changing every day. Consumers at home are buying products from companies we hadn't heard of a few years ago, and these new disruptive technologies are being brought into the corporate environment. Big IT companies are getting disrupted as a result, and that is good for the customer.
What are the biggest headlines or industry trends you're observing today in the world of IT?
There's very little doubt that flash is becoming a major factor in the storage market. The main challenge that comes with that is finding a way to exploit the benefits
of flash performance in an economic way. The focus needs to extend beyond flash hardware to intelligent flash to drive seamless integration with the virtualization and application layers, allowing administrators to focus on managing VMs and application data, rather than just storage.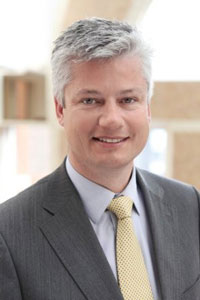 Connect with Tintri on Facebook, LinkedIn, Twitter and YouTube.