It was only a matter of time before big data and the cloud converged. Traditional on-premises approaches to big data analytics are too expensive for many organizations, and budget pressures on IT departments are resulting in spending shifts that leave little left over for deploying big data analytics on-site. The big data cloud offers other options.
The cloud offers end-users elasticity, agility, and speed, and can reduce costs considerably. Moreover, a number of big data analytics developers have partnered with cloud providers to make big data in the cloud more accessible to organizations that may have thought big data wasn't in their future. Today, the future of big data is increasingly expected to take place in the cloud.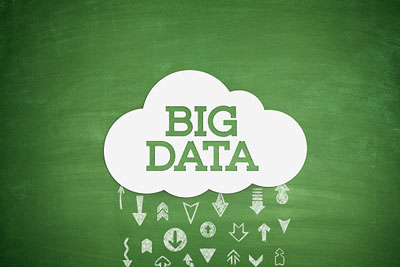 Deploying Hadoop in the Cloud Is Becoming Commonplace
The big data cloud isn't just a niche phenomenon. Amazon Web Services, IBM, Rackspace, and Google are just some of the high-profile vendors that now support big data cloud applications in the Hadoop framework. Moreover, a number of startups are introducing big data services that run on cloud platforms, so clients don't even have to deploy their own big data cloud framework.
Software and data service vendors that are just starting out often turn to the cloud first for their big data computing needs. Every week it seems there are more product announcements involving deployment of big data workloads in the cloud. But non-tech companies can be a little more skeptical about whether the big data cloud can deliver what they want, particularly if they have concerns about data security in the cloud.
Why Companies Avoid Taking Big Data to the Cloud
Security is one of the reasons companies state for avoiding the big data cloud phenomenon. Fear of loss of data accuracy and lack of bandwidth are two other reasons companies are reluctant to shift big data analytics to the cloud. And it's important not to discount the power of simple inertia keeping companies from deploying big data analytics in the cloud, even if they could save money by doing so. It would appear that many non-tech companies are waiting for someone else to go first when it comes to taking big data to the cloud, but that is starting to change as more options become available.
The Business Case for Big Data in the Cloud
The potential impact of the cloud on big data analytics is tremendous. Not only can it accelerate a company's rollout of big data processing, it can help them make maximum use of the insights derived from big data. And it can result in major cost savings. The US Department of the Interior recently contracted with a company offering big data cloud solutions and is expected to save $100 million per year by running big data analytics in the cloud. Overall estimated savings for government IT costs could amount to $12 billion per year.
Big data cloud analytics offers three major advantages:
• Quicker deployment, particularly for multi-national enterprises
• Virtually unlimited scalability
• Ease of adding new sources of data
Companies are already realizing measurable benefits from timely big data insights derived from running analytics in the cloud. Research by Aberdeen Group found that companies using big data cloud analytics were significantly more likely to be satisfied with the speed at which they were able to gain insight from their data than companies not using the cloud.
Conclusion
All signs indicate that the market is ready for big data analytics in the cloud. But it's important for companies to realize that all big data cloud analytics providers are not the same. Some providers, for example, offer bare metal computing, which is significantly faster due to elimination of the cloud "hypervisor" that is typically used to govern cloud applications.
Even within bare metal computing providers there are considerable differences. Bigstep offers a service called Full Metal Cloud that not only provides the speed of bare metal computing, but also offers blazing fast pseudo-wire connectivity and all-SSD storage, which further speed up big data cloud analytics. The time savings can make a substantial difference in the speed with which companies can extract meaning and insight from their big data and act upon them, and that can positively affect a company's competitive edge. Big data in the cloud is the future, and Bigstep offers tomorrow's promise of speed in big data cloud analytics today.