Big data environments at your fingertips
The Full Metal Cloud is introducing a new version of the Control Center, which allows you, whether you come from a business or a technical background, to create, configure and deploy any infrastructure design in less than 20 minutes. You can watch a short demonstration bellow.
Intelligent infrastructure design
• Drag & drop infrastructure elements and draw complex networks with just a few clicks
• Manage and scale thousands of machines according to your needs
• Save hundreds of hours of training and work using Control Center's simple and intuitive UI
• Take your infrastructure on the go and control it from your phone, tablet or notebook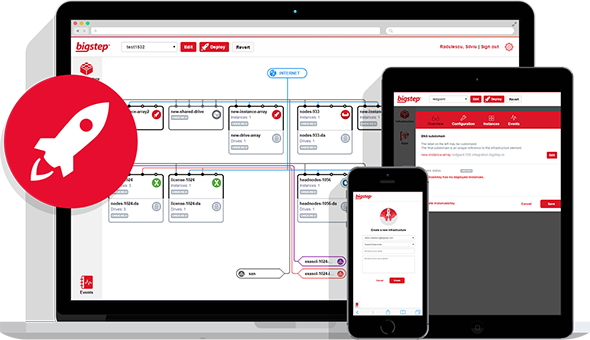 The Control Center naturally accommodates all screen sizes
Readily-deployable big data apps
Whether it's Hadoop, NoSQL DBs, analytics, search or log analysis engines, the Control Center has all your business and big data needs covered. And since everything is pre-configured for best performance and ready to work out-of-the-box, you can start using the apps right away.
 
Integrated Applications
Fast & fully configurable setup
No matter what your setup requirements are, the Control Center takes you from design mode to production deployment in a matter of minutes instead of hours.
If you would like to try our new Control Center yourself or if you have any feedback, let us know.