You don't need to have massive data sets in order to start harnessing the power of Big Data, says Mark van Rijmenam, hoping to clear up one of the most common misconceptions of Big Data.
The key to creating a successful Big Data strategy is to combine different data sources, which don't have to be extremely large. "That's why I like to call Big Data actually Mixed Data, as to truly get advantages out of Big Data you should mix different data sources," the co-founder and CEO of DataFloq adds.
Mark is passionate about the possibilities of Big Data, which is why he helped created a site that purports to be the One-Stop Shop for Big Data.
He's also an entrepreneur, sought-after speaker and Big Data strategist, and author of Think Bigger - Developing a Successful Big Data Strategy for Your Business. We checked in with him recently to get his take on how Big Data is changing how we live, work and play. Here's what he had to say:
Tell us about Datafloq ... what services do you offer? Who should be using them?

Datafloq is the One-Stop Shop for Big Data, creating the Big Data ecosystem by connecting all stakeholders within the global Big Data market. Datafloq is the No. 1 Big Data platform where organizations can find a Big Data technology vendor for their Big Data strategy and where they can find the right Big Data talent. The platform also provides valuable knowledge around Big Data, including trends, best practices, organizational advice, events and trainings. The objective of Datafloq is to spur the global understanding and application of Big Data in order to drive innovation and growth.
Why are you so passionate about Big Data? Why it is important to you to help others understand it?
Data is the future, and data is going to change how we live and work. Data will affect every part of our lives and every industry. With the right technology, you can get great insights and the market of Big Data is growing rapidly. That makes it a fascinating industry to be part of.
How is Big Data changing how we live, work and play?
There are multiple ways how Big Data is changing how we live, work and play and there are too many to sum up here; I contributed a book to it, after all (Think Bigger). But overall, it can be said that it will make work and our lives a lot more efficient and effective. Finding information will become easier, organizations will get to know their customers a lot better, products will be improved faster and better, etc.
Why do you think some business leaders are skeptical about Big Data? Why do you think they need to get over their reluctance to use it?

They are not used to trusting the data and rather prefer their gut feeling based on their years of experience. In addition to that, in order to start with Big Data you should start small, with a Proof of Concept, and grow from there. In the beginning it might be that results are not immediately clear or that the return on investment is not very high. First you have to learn and afterwards the benefits will come. Big Data takes time and that might cause business leaders to be skeptical, because they don't see instant results.
How can businesses get started harnessing Big Data?
Organizations should start with a common understanding on Big Data, as Big Data means something different for anyone and any industry. After you have common ground, a multi-disciplinary team should work on developing interesting Proof of Concept, among others by brainstorming. Once there is a long list, a short list can be created using criteria to see which Proof of Concept can best be implemented first.
From there on, organizations should just start and learn along the way. It is important that findings are shared within the organization, as Big Data requires a different culture. By sharing results, the rest of the organization will better understand the benefits of Big Data. After the first Proof of Concept, organizations can expend to new projects.
What do you think are the most common mistakes businesses make when investing in Big Data technologies?
They expect instant results, but Big Data takes time to be successfully implemented and embedded within the organization. In addition, they want to start big with as many cool features and insights as possible. But to really create value and understand Big Data, organizations should start small.
What are the biggest Big Data trends you think business owners should be following?
Check out our post on Five Big Data Trends for 2015.
How does Big Data intersect with the Cloud? What are the implications for business?

The Cloud and Big Data have very much in common, and more organizations will move to the Cloud. It is easy to install, scalable and relatively cheap.
What are some of the most interesting, unusual or exciting applications of Big Data you've discovered recently?

I have discovered quite a few different use cases on Big Data. A large compilation of interesting cases can be found here.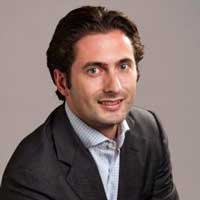 Connect with Mark on Twitter and LinkedIn.