By now, savvy business owners should be aware that big data might be their new best friend. But, says Linda Bustos, director of eCommerce research at Elastic Path and author of the Get Elastic Blog, more data isn't better if you're not using it effectively.
More important than big data is having a company cultured that isn't siloed between departments and data sources and that can share data.
She points to Target as an example of a large company that can use big data to make predictions about customers - like when a woman is pregnant based on purchase pattern shifts, like suddenly buying maternity clothes, certain vitamins, and unscented lotion.
"Smaller sites don't collect so much data, so will be able to have less meaningful predictions," Linda says. "So for smaller companies, the exciting part of big data come from third-party predictive analytics tools that can do a reasonable job of predicting customer behavior without having to actually own that data or program your own machine-learning systems."
Here, Linda shares more of her insight on eCommerce and how companies should be leveraging big data. Read on:
Tell us about Elastic Path…what products and/or services do you offer?
Elastic Path is an eCommerce software platform that connects with Adobe Experience Manager CMS, enabling marketers to tightly integrate content and commerce, manage subscriptions, and extend commerce beyond the storefront to touchpoints like mobile, in-store, and affiliates.
What seems to be the most common frustrations your clients have about eCommerce solutions?
I can speak to eCommerce platforms and retailers in general; I'm not in direct communication with our own customers. Different types of eCommerce platforms come with different frustrations. Some businesses are simply outgrowing their home-grown or entry-level platforms, which requires re-platforming to build the features and functionality the eCommerce team wants. Others find their multi-tenant, SaaS platforms don't allow them to innovate and differentiate among their competition, as all the platform's customers have access to the same features. And some find the ownership model is not cost-effective (in-house build may use too many resources, or SaaS offerings that take a percentage of sales can be more expensive long-term; in essence, the more you sell, the more you're paying for your platform).
To minimize frustrations, it's important to select a vendor that is the right partner for the next five years, with a roadmap that's aligned with your business objectives and technology stack.
What do you think businesses should be doing with their eCommerce technology to keep up with customer demands and/or expectations?
I think the most immediate need right now is to have mobile-friendly sites. Even though conversion rates are lower than desktop and tablet, they are an important research touchpoint, and support local/in-store research such as looking up customer reviews, etc. Not to mention, over 50 percent of email is opened on a mobile device. Your campaign landing pages better be mobile-friendly!
What tools can brands be using to harness the data they're collecting every day?
Basic web analytics is essential; add to that mobile analytics (many marketers still aren't tracking mobile site and app usage!). Social listening tools are another area that is good for branding - the ability to receive and respond to brand mentions, customer problems in social media.
For omnichannel brands, sharing data from the online channel with offline and vice-versa is a challenge, but every retailer ideally would do it. It requires the systems to be able to talk to each other, something that Elastic Path supports through our Cortex API, which connects data sources like ERP, CRM, and Analytics with eCommerce and Web Content Management services.
How do you think businesses could be using their data better?
There's a big difference between collecting and reporting web analytics, which are just numbers, and extracting insights to make the right decisions. Good web analysts are able to translate data into actionable items and communicate their findings to the rest of the organization; it's a very specialized skill that requires intuitive thinking as well as critical, logical thinking. It's about having great analysts on your team. As Avinash Kaushik says, you should be investing 90 percent in people and 10 percent in tools.
What are the biggest headlines in eCommerce today?
Mobile, social, and in-store tech. And they have been hot topics for the last several years, but it's really where eCommerce needs to catch up, and they are all becoming more important every year.
The headlines are always showcasing something that a retailer is trying in the space, but not necessarily following up to see if the innovative experiments were successful ;-) (iBeacons, mobile apps, social campaigns, etc.).
What trends or innovations excite you the most in your field?
I'm excited most about machine learning. Natural language processing, in particular. This technology has promise to make e-shopping a whole lot better, and conversational. Rather than clicking and browsing category and search pages, imagine being able to speak into your phone and have the right products shown to you, like a human salesperson with the product knowledge database of a computer, right through your mobile phone. It's a few years off, for sure, but think about the movie Her…this is where technology is heading - human-computer interactive experiences powered by artificial intelligence.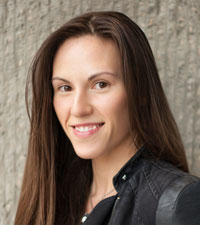 Linda Bustos, director of eCommerce research at Elastic Path and author of the Get Elastic Blog.
Connect with Elastic Path on Twitter, Facebook, LinkedIn, and YouTube.