Cisco just released their service provider forecast predicting some potentially controversial benchmarks for 2020:
—92% of big data traffic will be cloud-based.
—74% of cloud functions will derive from SaaS providers.
—Consumer cloud traffic per user will increase to 1.7 GB per month.
—Social networking will expand to 34% of all cloud traffic.
—Global IP traffic will almost triple in the next three years.
These stats may be controversial if your big business is still dragging feet on migrating data to the cloud. Cisco is predicting, if your business runs with big data or utilizes IoT functionality, you're going to join everyone else in the cloud very soon.
No Vacancy

Vacancy in the Cloud

Information Week notes that, as inevitable as enterprise-level cloud migration seems, it will still be outpaced by consumer cloud use in the years to come. Personal video streaming, searching, and social media will take up a lot of cloud bandwidth. More than a billion new users are expected to hit the Internet by 2020.

But consumer Internet usage trends are probably less surprising than enterprise-level cloud usage to the more conservative IT leaders in the business community. Many old school IT execs may still be cautious about security and the migration of mission-critical data to the cloud.

But with cloud data centers springing up everywhere, there's plenty of room in the Ethernet for personal and professional use. Amazon, Apple, Facebook, Google, IBM, Microsoft, and Rackspace have all developed scalable cloud-based data centers - and those are just the big-name service providers. Altogether, the storage capacity of cloud data hubs is expected to almost double in the next three years.

Synergy Research calls these "hyperscale data centers," which are defined as being connected to billions in revenue from SaaS, IaaS or other cloud-centric offerings. Hyperscale data centers contain hundreds of thousands of servers. For example, the Microsoft data farm in Chicago housed more than 300,000 servers, according to Information Week. They add that data traffic to these centers is expected to quintuple by 2022. By 2020 they will support more than 50% of the world's data traffic - and 44% of it will be roaming over a virtual network.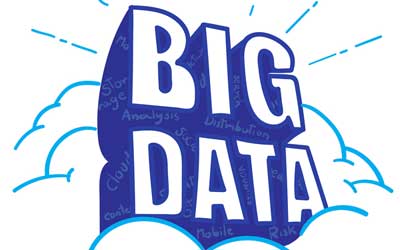 Inevitable Transition?
As big business migrates more info to the cloud, they'll likely transition via a hybrid model. Deciding when what and how to migrate will depend upon a careful analysis of regulatory, compliance, and business lifecycle determinants. Evaluating legacy applications to determine which are nearing the end of life will also aid your decision. Which business data could benefit most from the flexibility and scalability of cloud warehousing?
As you face what may be the inevitable transition of all or parts of your enterprise, consider Bigstep's integrated Metal Cloud platform as your big data warehouse. We service some of the biggest enterprises in the business world via multiple data centers in Europe and the U.S. Find out more about Bigstep's helped companies like yours join the cloud revolution by reading our customer stories