Market segmentation based on workload types
In our previous article, we have analyzed the hosting market segmentation in terms of client size (based on traffic). Let's now see the hosting market segmentation based on workload types, as seen by Freeform Dynamics analysis.

The categories of workload types would be:
| | |
| --- | --- |
| Lightweight workloads | Production applications with occasional and/or lightweight resource needs, e.g. tactical workgroup or departmental solutions. |
| Predictable workloads | Production applications with significant ongoing and predictable resource requirements, e.g. accounting, ERP and other core systems. |
| Periodic workloads | Production applications that kick in periodically with significant resource requirements but otherwise just tick over, e.g. payroll and billing. |
| Compute intensive -workloads | Production applications with extremely high, sometimes periodic, resource requirements, e.g. high transaction systems, HPC etc. |
| Bursty workloads | Production applications with highly fluctuating peaks and troughs of demand, e.g. online sales and service, some call center scenarios etc. |
"Around a third makes regular ongoing use of static traditional hosting if we add up the activity across all workload categories, but with more emphasis on predictable and lightweight applications."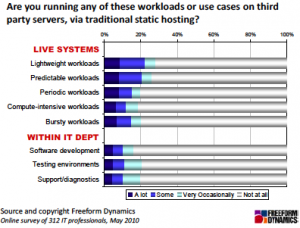 This tells us that the most suited type of workload for traditional hosting is lightweight and/or predictable workloads.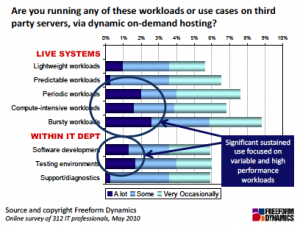 At the opposite, a Cloud offering, defined here by "dynamic on-demand hosting" is mostly used for "periodic, compute-intensive and bursty workloads". It's also very useful for software development and testing.
Therefore, we can conclude that the "pay-per-use", rapid provisioning and de-provisioning the most relevant characteristics of the Cloud are particularly useful for a certain class of workloads.
An important note to be made here is that workloads do not change with the application architecture or the software technologies used. They only depend on the purpose of the application, which should be periodic. For instance, an Intranet collaborative site is unlikely to become periodic or compute intensive.
We'll continue our analysis with public Cloud market segmentation based on integration type.
In the meantime, what type of workload does your application handle? How have you optimized for this workload?