It's time to stop treating data as a lake, where you understand the width, depth, volume and number of fish, says Douglas Karr, author of Corporate Blogging for Dummies and founder of Marketing Technology Blog. The Internet is becoming a part of everything we do in life, and data is everywhere - from mobile search, social, point of sales, traffic, weather - it's evolved from a lake to a river.
"The river is constantly adjusting, so the tools have to become more responsive to see what's upstream, what's currently in front of us, and what's downstream," Douglas says. "That requires very special products that are able to optimize and archive in real time, providing all of this data in a manner where marketers can understand the cause and relationship between efforts and behavior."
Big data is imperative to get a holistic view and slice and dice down to the point where you can make better decisions, he adds. Businesses should be looking to monitor trends and predict future performance with the tools available now.
Here, the CEO of DK New Media discusses marketing technology and what businesses should be doing to swim ahead of the school in digital era of data. Read on:
Tell us about Marketing Technology Blog…when and why did you start your site? Who should be reading it?
For over 20 years, I have been able to translate and communicate between the needs of a business and the technology offerings to help it succeed. In my early years working at a newspaper, direct and database marketing had really taken off and I shifted my career in that direction. I found my addiction - helping develop and discover platforms that would help execute and measure marketing efforts - and took up blogging to share my experiences a decade ago. This eventually morphed into the existing Marketing Technology Blog you see now! We have a successful agency behind the blog, DK New Media, that also helps marketing technology companies grow their business online.
What is marketing technology?
Marketing technology is the collection of tools that have been built specifically to research, execute and measure sales and marketing efforts with the goals of attracting new customers, building brand awareness, retaining current customers or growing the value of your existing customer base.
Why is technology becoming critical to the ability of a business to grow their brand in a way that it might not have been five or 10 years ago?
Much in the way the production line transformed the construction of the automobile, marketing technology is enabling marketing and sales departments to become far more efficient with their marketing investment. The explosive growth of online marketing, with its low cost and wide reach, has made it necessary to invest in tools that help navigate the complex landscape out there. In the last five years, search, social media and mobile reach have changed buyer behavior - where consumers research their next purchase online. This is requiring companies to do much more than blast their next commercial - they must be present where the buyers are researching!
What sorts of technology should businesses be investing in, in order to stay on top of their marketing game? What tools or technology do you think is obsolete or will be obsolete in the near future?
The foundation of any online marketing strategy is the website, its ability to capture leads and conversions, and an email marketing program to reach out to prospects and customers. This requires a combination of web analytics (with conversions clearly reported) and email marketing metrics. Your share of the marketplace should also be measured utilizing search and social monitoring, research and visibility metrics that aren't included in the average analytics package. Server-based analytics tools for measuring traffic have largely become obsolete in place of Software as a Service subscriptions that include regular updates to the software to evolve with your marketing sophistication.
What sorts of skills do today's marketing professionals need to learn in order to stay relevant?
There is currently a shortage of marketing professionals with analytical skills. Brand-based marketing where the professional was compensated largely on their ability to visualize and develop long-term strategies has become less important as the marketplace has changed so quickly. Agile marketing is being adopted by a wider range of businesses where marketers must be fluent in digital analytics tools, statistical modeling and Conversion Rate Optimization to research and execute multi-channel campaigns quickly.
What are your favorite tools for harnessing and making sense of big data?
The NoSQL tools have matured significantly. We've been working on a project where we're tracking daily search rankings by brand, topic and geography for a very large publisher online. They have millions of pages and hundreds of thousands of search rankings, and millions of mentions online. We quickly outgrew our relational database and are now looking to move the system to Elasticsearch. The ability for Elasticsearch to detect the data structure, index it and make it searchable is incredible…things we spent countless hours on when we weren't working with a big data technology. By the way…I'm lucky enough to have some genius developers I work with who keep me on top of this stuff. I didn't figure this out myself!
What are some of the most interesting or innovative ways you've seen businesses using technology in marketing?
All the current analytics platforms are basically built in a vacuum, with no insight into how channels actually perform together. Our email program, for example, has a huge impact on our site analytics and conversions. Now add our podcasts, videos, public relations, social presence (both brand and personal), webinars, and more…and imagine how difficult it is to measure the impact of each on the other and our overall results. The new wave of business intelligence systems that are connecting with your billing, customer relationship management system, web analytics, social analytics, search engine performance, sales dashboard…they're all providing a wealth of information for marketers to better understand where to invest their time - both short term and long term.
What are your favorite tools and resources for creating better marketing strategies?
We have so many tools that I'd be remiss to name them all, and I'd probably forget a vendor or two that we love. The fantastic array of tools and technologies out there make it possible now for companies to define their resources and processes, then find the right tool that meets their needs. This is different from the past, where you were stuck with what was out there! I'd encourage businesses to look beyond the leaders in the space. One example is in marketing automation. The leaders in the space are a bit stuck, but there are young, agile companies that have developed user interfaces and incredible systems well beyond the average capabilities. Companies need to go with what works, not what's most popular.
What do you think is the future of marketing technology? How will it revolutionize the way businesses interact with their customers?
We're starting to see an interesting pattern where companies are investing in development. If you asked me five years ago if you should build your own, I would have told you that you're nuts…the reason why the big guys are making a ton of money is because they've invested millions into their platforms. But platforms are becoming more agnostic today, rich with application programming interfaces. Licensing and hosting costs have plummeted and bandwidth has skyrocketed. This doesn't mean that you want to build your own, for example, video hosting platform. But it does mean that you can connect a digital asset management company, integrate it with a process workflow company, and then publish it out to the most popular video sites on the Internet. This evolution of platforms means that the semantic web is becoming a reality in the marketing technology space - where you can pick features out from the array of tools out there, then build your own proprietary platform that matches your internal efficiencies rather than having to change them! That's exciting stuff!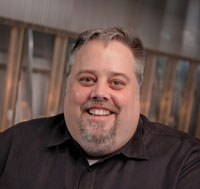 Douglas Karr-  Established leader in the marketing technology space, primarily assisting marketing technology related companies with their online marketing presence and establishing their authority in the marketplace. Humorous and outspoken public speaker on marketing, advertising and public relations.